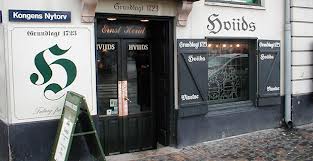 Hviid's wine bar is a 300 year old located at Kongens Nytorv.
Hviid's wine bar is cozy as a bodega with small tables and mahogany furniture.
At Christmas Hviid's wine bar attracts customers near and far. In November and December, they serve their famous mulled wine, which has been on its way for a long time coming. In May begins Hviid's wine bar to produce the popular drink among other things consisting of red wine, port wine, raisins and much more. The very high alcohol content has made Hviid's wine bar famous.
My own experience: A few years ago I visited Hviid's wine bar in December along with some colleagues. It was many guests when we came, so it's a good idea to reserve a table. I highly recommend Hviid's wine bar and their mulled wine.
In Danish: Hviids vinstue er en 300 år gammel værtshus som ligger ved Kongens Nytorv.
Hviids vinstue er hyggeligt indrettet som en bodega med små borde og mahognimøbler.
Ved juletid tiltrækker Hviids vinstue kunder for nær og fjern. I november og december måned servere de deres berømte glögg, som har været længe undervejs. I maj måned begynder Hviids vinstue at producere den populære drink som bl.a. består rødvin, portvin rosiner og meget andet. Den meget høje alkoholprocent, har gjort Hviid's vinstue berømt.
Mine egne erfaringer: For et par år siden besøgte jeg Hviid's vinstue i december måned sammen med nogle kolleger. Det var mange gæster da vi kom, så det er en god idé at reservere bord. Jeg kan varmt anbefale Hviids vinstue og deres glögg.
Facts: Hviids Vinstue, Kongens Nytorv 19, 1050 Copenhagen K, phone: +45 33 15 10 64,
web: www.hviidsvinstue.dk/