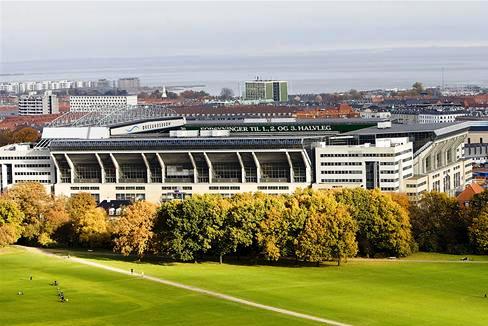 The park was open in 1990 and has since then been Denmark's national stadium.
The park is the largest football stadium located in the district Østerbro in Copenhagen.
On the football stadium many national team matches and league matches has been played.
Additionally big concerts with international stars such as Madonna, Justin Timberlake and
various other types of shows is held during a year.
My own experience: I have been in the park for a concert. The frames are perfect if you want to experience a football game or a concert.
In Danish: Parken blev indviet i 1990 og har siden da været Danmarks national stadion.
Parken er Danmarks største fodboldstadion som ligger i bydelen Østerbro i København.
På fodboldstadiet spilles mange landsholdskampe og superliga kampe. Derudover afholdes store koncerter med internationale stjerner såsom Madonna, Justin Timberlake og forskellige andre typer shows.
Min egne erfaringer: Jeg har været i Parken til koncert. Rammerne er helt perfekt, hvis du gerne vil opleve en fodboldkamp eller en koncert.
Facts: National football stadiun Parken, Per Henrik Lings Allé 2, 2100 København Ø, phone: +45 35 43 31 31, web: http://parken.dk/