Deprecated: Function create_function() is deprecated in /customers/8/a/a/copenhagen-sightseeing.dk/httpd.www/wp-content/plugins/wp-spamshield/wp-spamshield.php on line 2033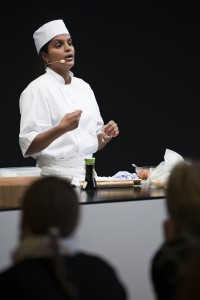 I have for many years cultivated the Japanese martial arts kendo at the elite level.
In 2004, I traveled to Japan on a training camp in Tokyo. After training, I was invited by the teacher to dine at one of Tokyo's many good sushi restaurants.
It was an eye-opener. Japanese sushi tastes of much more, and typically the Japanese sushi restaurants 20 different fish on the menu.
In 2006 I traveled to Los Angeles, where I was trained to become sushi chef and Sake Sommelier at California Sushi Academy. As part of the training I also learned to make many different traditional dishes in Japanese cuisine.
The course was led by the highly acclaimed Japanese sushi chef Toshi Sugiura, who is also celebrity chef in Hollywood and judge at the sushi competitions in Japan.
During my stay I made catering at celebrities in Bel Air, Beverly Hills, Brentwood and film companies in Hollywood.
Today, I teach various cooking classes for business adults and children. Sushi course for beginners and Sushi Course for children (10-15 years) will be held in Danish and English several times during a month.

I also do private dining such af staff food to 2 Michelin restaurant Geranium in Copenhagen.
In Danish: Jeg har i mange år dyrket den japanske kampsport kendo på eliteplan.
I 2004 rejste jeg til Japan på et træningsophold i Tokyo. Efter træning, blev jeg inviteret ud og spise af lærerne på en af byens mange gode sushirestauranter.
Det var en eye-opener. Japansk sushi smager af meget mere, og typisk har de japanske sushirestauranter 20 forskellige fisk på menukortet.
I 2006 rejste jeg til Los Angeles, hvor jeg blev uddannet til sushikok og Sake Sommelier hos California Sushi Academy. Som en del af uddannelsen lærte jeg også, at lave mange forskellige traditionelle retter indenfor det japanske køkken.
Kurset blev ledet af den meget anerkendte, japanske instruktør Toshi Sugiura, som også er kendiskok i Hollywood og dommer ved sushikonkurrencer i Japan.
Under mit ophold lavede jeg catering hos kendisser i Bel Air, Beverly Hills, Brentwood og filmselskaber i Hollywood.
I dag underviser jeg forskellige madlavningskurser for virksomheder, voksne og børn. Sushikursus for begyndere og Sushikursus for børn (10-15 år) afholdes på dansk og engelsk adskillige gange om måneden.
Jeg laver også privat dining som f.eks. personalemad til Michelin-restauranten Geranium i København.
Facts: Sakana by Zoë Escher, http://zoeescher.com, email: info@sakana.dk