Earlier this week I visited Andersen & Maillard.
It's been a long time since I've had such a good cappuccino.
Their chocolate croissant is not greasy but ultra-fresh and crispy with a thick layer of silky dark chocolate inside the center.
Their vanilla canelé is delicious and spongy.
My own Experience: It is a great place. Quite a few people bring their computer to do some work.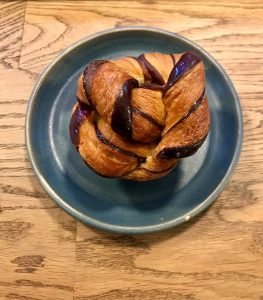 In Danish: Tidligere på ugen lagde jeg vejen forbi Andersen & Maillard.
Det er længe siden, at jeg har fået så god en cappuccino.
Deres chokolade croissant er ikke fedtet, men ultra frisk og sprød med et tykt lag silkeblød mørk chokolade indeni midten.
Deres vanille canelé er fin i smagen og svampet.
Mine egne erfaringer: Der er en del gæster som medbringer en computer og sidder og arbejder.
Facs: Andersen & Millard, Nørrebrogade 22, 2200 Copenhagen N, Phone: + 45 42 67 21 00, web: Andersen & Millard