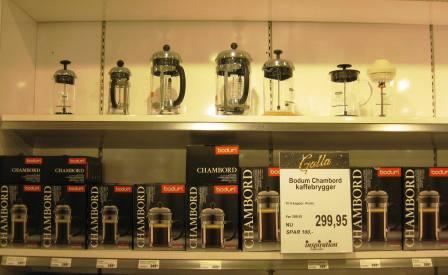 Bodum is a Danish company founded by Peter Bodum in 1944. At the time, Bodum designed and sold kitchenware and later glassware from Eastern Europe.
In 1974, his son Jørgen Bodum was given the responsibility for the business, and since then, he has introduced the world famous coffee maker that can be purchased in different versions.
Bodum has only a few shops in Denmark, their famous coffee maker is sold in all stores and distributor of kitchenware.
My own experience: In my family we have always had a coffee maker. Bodum coffee maker is of very high quality and they last for many years. It's a coffee maker  that I highly recommend.
In Danish: Bodum er en dansk virksomhed der blev grundlagt af Peter Bodum i 1944. På daværende tidspunkt designet og solgte Bodum køkkenudstyr og senere glasartikler fra
Østeuropa.
I 1974 overtog sønnen Jørgen Bodum virksomheden, og sidenhen har han introduceret
den verdens berømte stempelkande der kan købes i forskellige udgaver.
Bodum har ganske få butikker i Danmark, deres berømte stempelkande forhandles i alle
stormagasiner og forhandler af køkkenudstyr.
Min egne erfaringer: I min familie har vi altid haft en stempelkande.  Bodum stempelkande er af meget høj kvalitet, som holder i mange år. Det er en kande som jeg varmt kan anbefale.
Facts: Bodum Shop Tivoli, Vesterbrogade 3, 1620 Copenhagen V, phone +45 33 75 09 04,
web: www.bodum.com/dk/