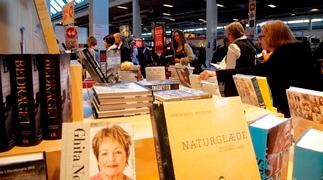 Book forum is an annual fair, which is held in November for 3 days. The book Fair is held at the Bella Center which is one of Denmark's largest convention center.
Over the three days you will be able to visit the publisher who has an exhibition stand, hear author, interviews, debates, cookbook author appearing on food stage and more.
Over the three days will be able to buy books at attractive prices.
My own experience: I have visite the book fair several times, it is a pleasure to hear author and looking at books. Additionally, I have appeared on the food stage with my cookbook "Matcha, omakase and sushi." It is a trade which can highly recommend.
In Danish: Bogforum er en årlig messe, der afholdes i november måned I 3 dage. Bogmessen afholdes i Bella center der er et Danmarks største kongrescenter.
I løbet af de 3 dage vil du kunne besøge forlag der har en messestand, høre forfatter, interviews, debatter, kogebogsforfatter der optræder på madscenen og meget mere.
I løbet af de 3 dage vil kunne købe bøger til attraktive priser.
Mine egner erfaringer: Jeg har besøgt bogforum adskillige gange, det er en fornøjelse at høre forfatter og kigge på bøger. Derudover har jeg optrådt på madscenen med min kogebog "Matcha, omakase og sushi". Det er en messe som varmt kan anbefale.
Facts: Book fair, Bella Center, Center Boulevard 5, 2300 København S, phone: +45 32 47 20 00, web: http://www.bogforum.dk/