Copenhagen street food is a food market located in the center of Copenhagen, next to the Royal Opera House in Christianshavn.
Copenhagen street food opened its doors in April 2014 and in the summer with the
individual food stands and bars open from lunchtime to late evening on weekdays.
At Copenhagen street food you will find food from every corners of the world. The food is served from food stands that have been painted or decorated differently. The price varies slightly 60-75 Danish kroner. There are bars with their own personal touch that sells beer wine, water and cocktails.
Copenhagen street food has various dining areas both inside and out along the pier where you can sit and enjoy the food.
My own experience: I think that Copenhagen Street food reeks of good food in pleasant surroundings. It is the perfect place to be at on hot summer day. The combination of
eating good food, but enjoying the weather along the water is absolutely fantastic. It's a place that I highly recommend.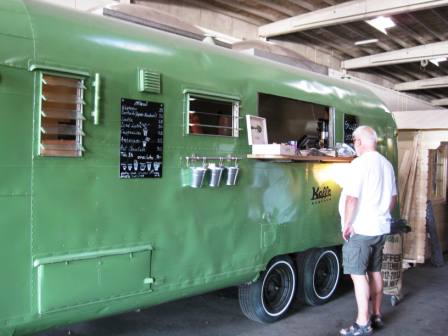 In Danish: Copenhagen street food er et madmarked som ligger i centrum af København ved siden af Det kongelige operahus på Christianshavn.
Copenhagen street food slog dørene op i april 2014, og i sommerperioden holder de enkelte
madvogne og barer åben fra frokosttid til sen aften på ugens dage.
På Copenhagen street food finder du mad fra alle verdenshjørner der serveres fra
madvogne der er blevet malet eller dekoreret på forskellig vis. Prisen på en ret varierer lidt fra 60 – 75 kr.
Der findes barer der med deres egen personlige touch, sælger øl vin, vand og cocktails.
Copenhagen street food har forskellige spiseområder både inde og ude langs kajen, hvor du kan sidde og nyde maden.
Mine egne erfaringer: Jeg synes, at Copenhagen Street food oser af god mad i hyggelige
omgivelser. Det er det perfekte sted at være på en varm sommerdag. Kombinationen af at spise god mad, men du nyder vejret langs vandet er helt fantastisk. Det er et sted som jeg varmt kan anbefale.
Facts: Copenhagen Street Food, Hall 7 & 8, Papirøen, Trangravsvej 14, 1436 Copenhagen K, web: http://copenhagenstreetfood.dk/