Michelin chef and co-owner Kristian Møller works at restaurant formula B , and the co-owner Joachim Jochumsen works at their second restaurant Sletten. However, they have chosen to hire a head chef at restaurant Sletten.

Beef entrecote with celery and puffed white rice.
In October 2013 I met with Kristian and he told the following about the restaurant.
When Kristian took over the restaurant something new had to be done, so they changed the concept, but it is still classic French. They have not gone Nordic as some of the other
restaurants.
Before the financial crisis everything went well and when the crisis hit they decided to change seat. The menu was changed a little and each dish can be bought at 130 Danish kroner, dishes that they would like to eat themselves. The dishes should be clean and simple, so you can see what you are eating.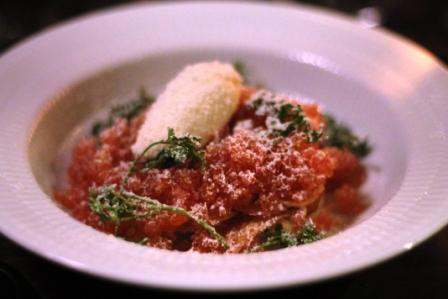 Danish lumpfish roe with horseradish cream, crunchy vegetables and smoked cheese.
They were allowed by the Michelin Guide to keep the Michelin star. The concept is not locked and it gives a different flexibility. The focus is on ingredients, quality and honest expression.
formula B uses seasonal ingredients, they are biodynamic or organic fx. They dry the leafs and use the stick for a tartar. Visually the dishes must have an organic expression.
By using current vegetables, the dynamic and the chefs are happier.
They regularly change dishes which keeps the menu exciting. Their concept today is to go out and socialize, where water and wine placed on the table.
After the interesting talk I was served the several dishes.

Tatar of salted beef top round with grilled salads, black pepper and pickled onions.
My own experience: I have eaten a few times at formula B. The food is great and the service is top notch. What makes this Michelin restaurant special is that you do not have to order a set menu. You can put your own menu and the number of dishes together from their tasty menu. It is a restaurant that I can highly recommend.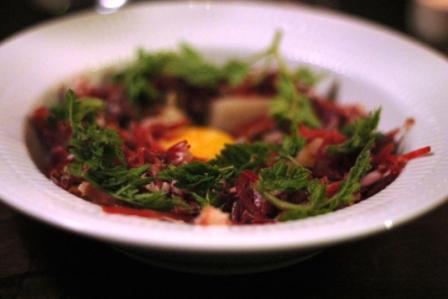 Warm egg yolk with black foot ham, crispy Jerusalem artichokes and Karl Johan emulsion.
In Danish: Michelin-kokken og medejer Kristian Møller arbejder på restaurant formel B, og hans medejer Joachim Jochumsen arbejder på deres anden restaurant Sletten. Dog, har de valgt at ansætte en køkkenchef på restaurant Sletten.
I oktober 2013 mødtes jeg med Kristian Møller og han fortalte følgende om restauranten.
Da Kristian overtog restauranten skulle der ske noget nyt, så de lavede konceptet om, men det er stadig klassisk fransk. De er ikke gået nordisk som nogle af de andre restauranter.
Inden finanskrisen gik det godt, da krisen ramte, sadlede de om, og lavede konceptet om til
retter der kostede 130 kr. Retter som de selv har lyst til at spise. Retterne som skulle være rene og enkle, så man kan se hvad man spiser.

Organic beef from Birkemose farm with new Danish potatoes, wild garlic and greaves.
De fik lov af Michelin-guiden at beholde Michelin stjernen. Konceptet er ikke låst og det giver en anden fleksibilitet. Der er fokus på råvarer, kvalitet og et ærligt udtryk.
Formel B bruger sæsonens råvarer, de er biodynamiske eller økologiske, hvor de f.eks. tørre bladet og bruger stokken til en tatar. Visuelt skal retterne have et organisk udtryk.
Ved at bruge aktuelle råvarer er det dynamisk og kokkene er gladere.
De udskifter jævnligt enkelte retter af gangen. Deres koncept i dag er, at gå ud og hygge sig, hvor vand og vin stilles på bordet.
Herefter fik jeg serveret forskellige retter.
Mine egne erfaringer: Jeg har spist en del gange på formel B. Maden er fantastisk og servicen er helt i top. Det der gør Michelin-restauranten speciel er, at du behøver ikke at bestille en fast menu. Du sammensætter selv din menu og antallet af retter ud fra deres velsmagende menukort. Det er en restaurant som jeg varmt kan anbefale.
Fact: formel B, Vesterbrogade 182, 1800 Frederiksberg C, phone +45 33 25 10 66,
web: formelb.dk