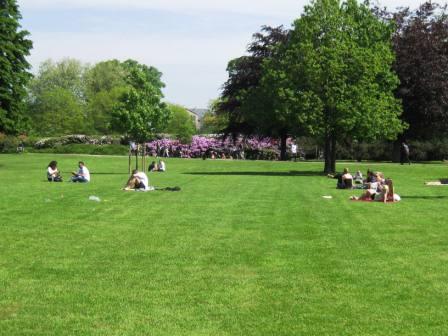 The king's garden, which is also called the garden of Rosenborg Castle was built in the 1606th.
The park has a number of sculptures placed in different area in the park. The park does also give access to Rosenborg Castle.
The king's garden is the most preferred park in Copenhagen. During summer the local citizens enjoy the park for walking, sunbathing and different ball games.
My own experience: I have visited the king's garden for many years. It is a very beautiful landscaped park which is ideal for walking, playing games or sitting on a blanket and enjoys the nice weather. It is a park that I highly recommend.
In Danish: Kongens have, som også kaldes for Rosenborg Slots have blev anlagt i 1606.
I parken findes en række skulpturer placeret forskellige steder i parken. I Parken er der også adgang til Rosenborg Slot.
Kongens have er københavnerne mest fortrukne park, om sommeren bliver parken brugt til bl.a. boldspil og solbadning.
Mine egne erfaringer: Jeg er kommet i Kongens have igennem mange år. Det er en meget smuk anlagt park, der egner sig perfekt til gåture eller at sidde på et tæppe og nyde det gode vejr. Det er en park som jeg varmt kan anbefale.
Facts: The King's Garden, Øster Voldgade 4B, 1350 Copenhagen K