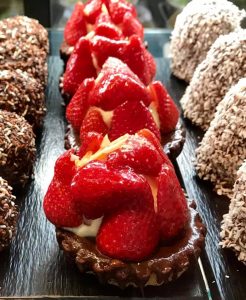 In 1991, Ole Kristoffersen open the first bakery Lagkagehuset in Christianshavn. The bakery is known for their cakes and bread quality.
Since they opened the first bakery, has been booming for Lagkagehuset. They have opened stores throughout Copenhagen, and has now expanded their range to include sandwiches,
salads other lunches.
My own experience: I for many years been eating cakes and bread from Lagkagehuset, which is a pleasure to eat. It is a bakery which I highly recommend.
In Danish: I 1991 åbne Ole Kristoffersen den første bageri Lagekagehuset på Christianshavn. Bageriet er kendt for deres kager og brød af høj kvalitet.
Siden de åbnede den første bageri, er det gået stærkt for Lagekagehuset. De har åbnede
forretninger i hele København, og har nu udvidet deres sortiment til at omfatte sandwiches, salater andre frokostanretninger.
Mine egne erfaringer: Jeg igennem mange år spist kager og brød fra Lagkagehuset, som er en fornøjelse at spise. Det er et bageri som jeg varmt kan anbefale.
Facts: Lagkagehuset, Frederiksborggade 6, 1360 Copenhagen K, phone: +45 33 11 29 00,
web: www.lagkagehuset.dk