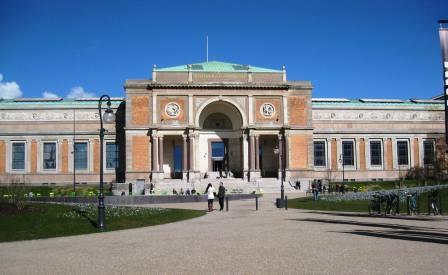 National Gallery of Art is Denmark largest gallery museum of art in the country.
The museum has large collections covering European art over several time periods. In addition there is also a modern art exhibition in recent times. These exhibitions are free of charge.
In addition, the National Gallery holds a series of exhibitions over a year to be paid an entrance fee.
My own experience: I have visited the National Gallery of Art. I am very impressed with the
quality and size of their exhibits. It is a museum which I can highly recommend.
In Danish: Statens Museum for kunst er Danmarks nationalgalleri og er landets største museum for billedkunst.
Museet har store samlinger der dækker europæisk billedkunst over flere tidsperioder. Dertil findes også en udstilling med moderne kunst indenfor nyere tid.  Disse er udstillinger er ganske gratis.
Dertil holder Statens Museum for Kunst en række særudstillinger i løbet af et år, hvor der skal betales entré.
Mine egne erfaringer: Jeg har besøgt Statens Museum for Kunst, jeg er meget imponeret kvaliteten og størrelsen på deres udstillinger. Det er et museum som jeg varmt kan anbefale.
Facts: Statens Museum for Kunst, Sølvgade 48-50, 1207 København K, phone: +45 33 74 84 94, web: www.smk.dk/