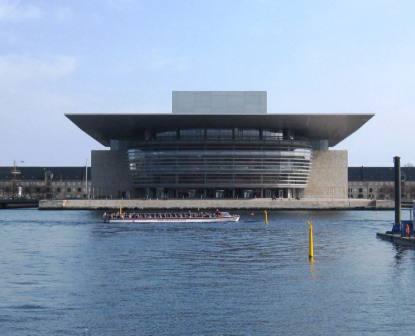 The royal opera house is from 2005 and is designed by architect Henning Larsen. The opera house was primarily funded by AP Møller and Chastine Mc Kinney Moller.
The royal opera house is located in the center of Copenhagen and is easy to reach by public transport from land or sea.
During a year the royal opera house offers many exciting experiences such as great classic
operas, ballets and concerts can be found on their program.
My own experience: A couple of years ago I saw a beautiful opera in the royal opera house.
Besides a thrilling spectacle play the building itself is very beautiful and exciting. Nothing is left to chance and there is thought of guests down to the smallest detail. A house that I highly recommend.

In Danish: Den kongelige opera er fra 2005 og tegnet af arkitekten Henning Larsen. Fonden A.P. Møller og Hustru Chastine Mc Kinney Møller står bag byggeriet, og har primært finansieret
operaen.
Den kongelige opera ligger i centrum af København er og nemt, at kommet til ved offentlige
transportmidler både til lands og til vands.
Den kongelig opera byder på mange spændende oplevelser i løbet af et år. Store klassiske
operaer, balletter og koncerter er at finde på deres program.
Mine egne erfaringer: Jeg har for et par år siden set en smuk opera i den kongelige opera. Udover en spændende forestilling er selve bygningen, og dens design meget smuk og spændende. Intet er overladt til tilfældighederne og der er tænkt på gæsterne helt ned til mindste detalje. Et hus som jeg varmt kan anbefale.
Facts: Opera House, Ekvipagemestervej 10, 1438 Copenhagen K, phone +45 33 69 69 69,
web: http://kglteater.dk/