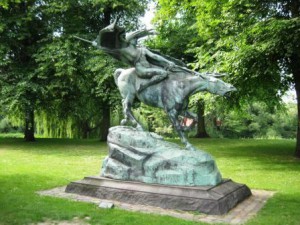 Churchill Park is a large park in central Copenhagen. In the beautiful park with many different sculptures that can be enjoyed year round.
Valkyrie is a bronze sculpture which is made of the Norwegian / Danish sculptor Stephan Abel Sinding is dated from 1910.
My own experience: Valkyrie is a beautiful bronze sculpture which I can highly recommend if you are out for a stroll in Churchill Park.
In Danish: Churchillparken er en stor park der ligger i centrum af København. I den smukke park findes mange forskellige skulpturer som kan nydes året rundt.
Valkyrjen er en bronze skulptur fra 1910 som er lavet af den norsk/danske skulptør Stephan Abel Sinding.
Mine egne erfaringer: Valkyrjen er en smuk bronze skulptur som jeg varmt kan anbefale, hvis du er ude og gå en tur i Churchill parken.
Facts: Churchillparken, 7, 1263 København K