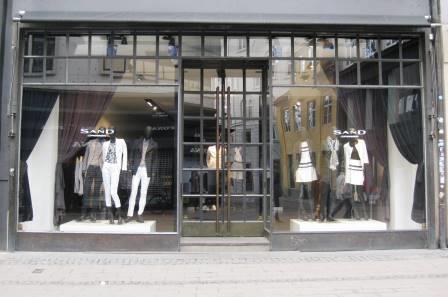 Sand store in Copenhagen
Behind the clothing brand Sand, you will find the design duo Lene and Søren Sand, who have known each other since high school.
The couple started the company in the 80s and since then the company has grown to an
international renowned design company.
Sand makes exclusive and sophisticated clothing for both women and men of high quality. Timeless design that is durable for many years.
Sand sell their clothes in own stores worldwide.
My own experience: I bought the design from Sand. It is the brand that is stylish and exclusive. It is a brand which I highly recommend.
In Danish: Bag tøjmærket Sand, finder du design duoen Lene og Søren Sand, som har kendt
hinanden siden gymnasiet.
Parret startede firmaet i 80'erne og sidenhen er virksomheden vokset til en internationale
anerkendt designvirksomhed.
Sand laver eksklusiv og sofistikeret beklædning til både kvinder og mænd af høj kvalitet. Tidsløs design der er holdbar i mange år.
Sand sælges i egne butikker over hele verden.
Min egne erfaringer: Jeg har købt design fra Sand. Det er mærket som er stilrent og eksklusivt. Der er et mærke som jeg varmt kan anbefale.
Facts: Sand, Østergade 40, 1100 Copenhagen K, phone: +45 35 44 61 00, web: http://sand.dk/