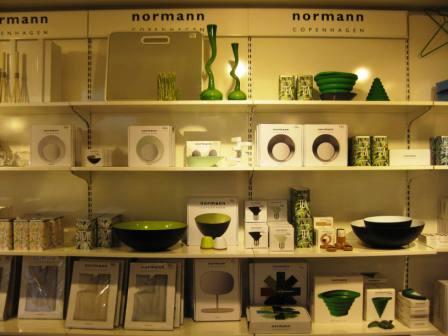 Normann is a Danish design company that was founded by Jan Andersen and Poul Madsen in 1999.
The started out making one lamp. Since then Normm has extended their repertoire to include design in kitchen, gifts, furniture, textiles and glass.
What characterizes Normann's design is that it is simple and in new colors not seen before.
My own experience: I have yet to design from Normann, however, I have followed their design for many years.
In Danish: Normann er en dansk design virksomhed, der blev grundlagt af Jan Andersen og Poul Madsen i 1999.
Fra at, lave en lampe har Normm udvidet deres repertoire til, at omfatter design indenfor køkken, gaver, møbler, tekstiler og glas.
Det der kendetegner Normanns design er at det er enkelt og i nye farver som ikke er set før.
Mine egne erfaringer: Jeg har endnu ikke købt design fra Normann, dog har jeg fulgt deres
design i mange år.
Facts: Normann, Østerbrogade 70, 2100 Copenhagen Ø, phone: +45 35 55 44 59,
web: www.normann-copenhagen.com/