Knippels bridge was built in 1618. The bridge was named after bropasseren Han Knip in 1941. Knippelsbro connects Slotsholmen and Christiansbro. There is a lot of traffic on bridge since people who are working at Christianshavn or lives in Amager have to cross the bridge.
A few times per a year the bridge 'opens' itself, as some ships are too large to pass under the bridge. The large vessels that cross the bridge are either sailing to or from the port of Copenhagen. The traffic stops on both sides of the bridge, it often takes no more than 10-15 minutes from the bridge opens to a ship has passed.
My own experience: Knippesbro is a cozy bridge which I have crossed many times. From the bridge there is a spectacular view to the Royal Opera, the black diamond and other beautiful buildings located along the canals. It is a bridge that is worth visiting.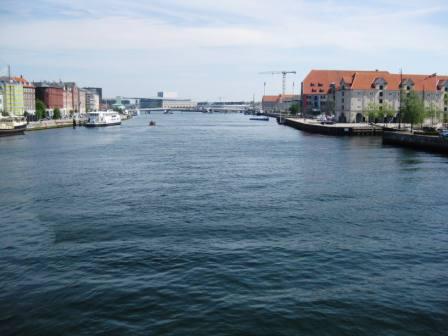 A view from the bridge

In Danish: Knippelsbro blev bygget I 1618 og broen er opkaldt efter bropasseren Hans Knip i 1941. Knippelsbro forbinder Slotsholmen med Christiansbro. Det er en meget trafikeret bro, da de som arbejder på Christianshavn eller bosiddende på Amager skal krydse broen.
En del gange om året 'åbner' broen sig, da nogle skibe er for store til at sejle under broen.
De store skibe som krydser broen skal enten til eller fra Københavns havn. Trafikken går i stå på begge sider af broen, ofte tager det ikke mere end 10-15 minutter fra at broen åbner sig til, at et skib har passeret.
Min egne erfaringer: Knippesbro er en hyggelig bro som jeg krydset mange gange. Fra broen er der en fantastisk udsigt til Den kongelig opera, den sorte diamant og andre smukke bygninger der ligger langs kanalerne. Det er en bro som er værd at besøge.
Facts: Knippel bridge, Knippelsbro, 1409 Copenhagen K