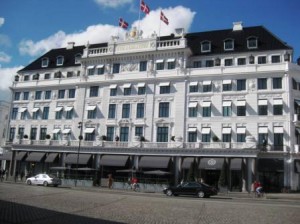 Denmark's leading five-star hotel is located in a landmark building overlooking the lovely King's Square in the heart of Copenhagen. Hotel d'Angleterre is renowned for our luxurious accommodations, fully personalized services and outstanding hospitality.
With more than 250 years of history, Copenhagen's finest hotel can also pride itself on being one of the oldest hotels in the world. They have welcomed many prominent guests.
Hotel d'Angleterre has been closed since June 1st 2011 due to extensive renovations.
My own experience: I have not yet had an opportunity to visit the Hotel d'Angleterre and experience their exclusive service. I have only heard the hotel be discussed in positive terms.
In Danish: Hotel d'Angleterre er Danmarks ældste femstjernede hotel med udsigt over Kongens Nytorv i hjertet af København. Hotel d'Angleterre er kendt for luksuriøse forhold, personlig service og unikke oplevelser.
Med mere end 250 år på bagen er Hotel d'Angleterre, udover at være et af de smukkeste hoteller, også et af de ældste hoteller i verden, de har budt mange prominente gæster velkomne.
Mine egne erfaringer: Jeg har endnu ikke haft en anledning til at besøge hotel d'Angleterre og opleve deres eksklusive service. Jeg har kun hørt hotellet blive omtalt i positive vendinger.
Facts: Hotel d'Angleterre, Kongens Nytorv 34, 1050 Copenhagen K, phone +45 33 12 00 95,
web: www.dangleterre.dk/