For 4 months ago opened the restaurant Palægade. The restaurant is located in a side street Bredgade near Kongens Nytorv in central Copenhagen.
Restaurant Palægade serves a large variety of tasty Danish smørrebrød of high quality for lunch. They only use extremely fresh ingredients and the smørrebrød is made when guest has given the order. For dinner they serve different kind of dishes that can be ordered a la carte.
The restaurant is modern, comfortable and decorated in warm colors. The service is welcoming and pleasant.
My own experience: Just the other day I ate lunch at the restaurant Palægade. Their smørrebrød are made from scratch from raw materials of best quality. The two sandwiches I ordered were very tasty and there is no doubt that they have some extremely talented chefs who cook the food. It is a restaurant which I can highly command.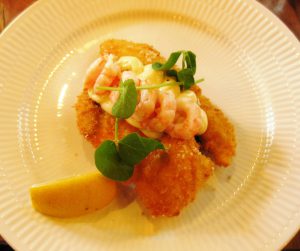 In Danish: For 4 måneder siden åbnede restaurant Palægade. Restauranten ligger i en sidegade til Bredgade tæt på Kongens Nytorv i indre København.
Restaurant Palægade servere et stort udvalg af velsmagende smørrebrød af høj kvalitet til frokost. Smørrebrød til friske råvarer og som først laves når gæsten har afgivet sin bestilling. Til aften servere de nogle andre retter som kan bestilles a la carte.
Restauranten er moderne, behagelig og indrettet i varme farver. Betjeningen er imødekommende og behagelig.
Mine egne erfaringer: Her forleden spiste jeg frokost på restaurant Palægade. Deres smørrebrød laves fra bunden af råvarer af bedste kvalitet. De to smørrebrød smagte fantastisk godt, og man er ikke tvivl om at det nogle ekstrem dygtige kokke som laver maden. Det er en restaurant som jeg varmt kan befale.
Facts: Restaurant Palægade, Palægade 8, 1261 Copenhagen K, phone: + 45 70 82 82 88, web: http://palaegade.dk
Gem
Gem