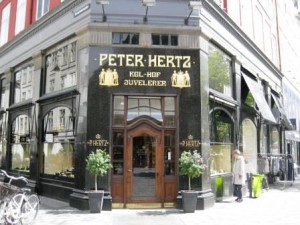 The royal court juvelere P. Hertz founded his business 1834. Peter Hertz jewelry is an exclusive jewelry shop located on Købmagergade in central Copenhagen.
Jewelry store has it's own workshop, where designers in close work with jewelry craftsman creates new jewelry collections. Peter Hertz makes exclusive arms band rings, necklaces and earrings. Furthermore sell also jewelry from other designers such as Ole Lynggaard.
My own experience: I have bought jewelry from the store. The business has many exclusive of the highest quality. It is a business that I can highly recommend. Kgl. Hofjuvelerer P. Hertz grundlagde sin forretning 1834.
In Danish: Peter Hertz smykker er en eksklusiv smykkeforretning beliggende på Købmagergade, der ligger i centrum af København.
Smykkeforretningen har sit eget værksted, hvorfra designere i tæt samarbejde med smykke håndværker skaber nye smykkekollektioner. Peter Hertz laver eksklusive armbånd ringe, halskæder og øreringe. Dertil forhandler de også smykker fra andre designere såsom Ole Lynggard.
Mine egne erfaringer: Jeg har købt smykker fra forretningen. Forretningen har mange eksklusive af højeste kvalitet. Det er en forretning som jeg varmt kan anbefale.
Facts: P. Hertz jewelry, Købmagergade 34, 1150 Copenhagen K, phone: +45 33 12 22 16,
web: www.phertz.dk/