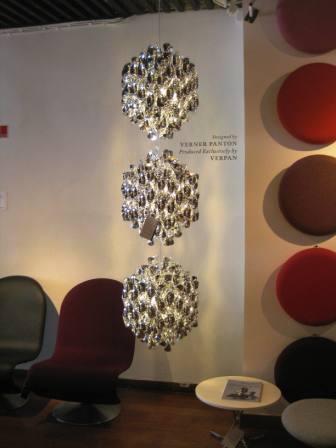 Silver spiral designed by Verner Panton
In 1926 Verner Panton was born on Fyn and died in 1998 in Copenhagen. In the 1960s he was one of the most trend-setting designers in Europe.
His designs were within furniture, lighting and spatial design, where he experimented with new shapes and bold colors, and used the latest materials and production methods.
My own experience: I am very excited about Verner Panton's lamps that are beautiful, stylish and have an exclusive look. I have Verner Pantion's lamp "Fun" hanging in my apartment. I am very happy about the lamp.

In Danish: I 1926 blev Verner Panton født på Fyn og døde i 1998 i København. I 1960'erne var han en af de mest toneangivende designere i Europa.
Hans design lå indenfor møbler, belysning og rumdesign, hvor han eksperimenterede med nye former og kraftige farver, og udnyttede de seneste nye materialer og produktionsmetoder.
Mine egne erfaringer: Jeg er meget begejstret for Verner Pantons lamper, som er smukke, stilrene og har et eksklusivt look. Jeg har Verner Pantions lampe "Fun" hængende i min lejlighed. Den lampe er jeg meget glad for.
Facts: Illums Bolighus, Amagertorv 10,  1160 Copenhagen K, phone + 45 33 14 19 41,
web: www.illumsbolighus.dk