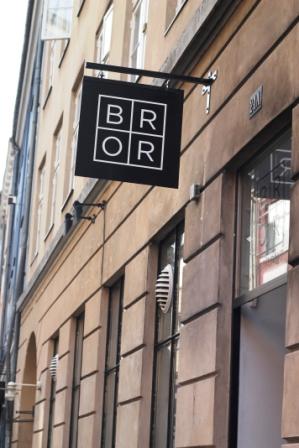 I visited the restaurant BROTHER shortly after they opened in 2013. It is located in the center of Copenhagen, but in an unconventional place, however, some distance away from many popular restaurants.
These are the two deputy leaders Victor Wågman and Samuel Nutter from noma, which has
embarked on a new adventure. They have done pretty well.
Everything was booked that night. As I entered the restaurant I was greeted by a welcoming staff. It's a super nice restaurant with rustic furniture, relaxed and warm atmosphere.
We got a glass of sparkling wine and I ordered a snack and daily 4 course menu.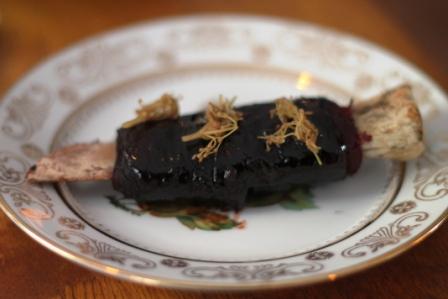 Beetroot on ribs, marrow, elderflower
My own experiences. The dishes we were served tasted great tasty and had its own
characteristics. The dishes were composed of simple raw materials of very high quality, and the individual commodities have really allowed them to come into their own. They master the
techniques to perfection and manage to surprise with new flavor dimensions.
It's definitely a place I can recommend.

Walleye, grilled cucumbers, pine
In Danish: Jeg besøgt restaurant BROR kort tid efter de åbnede i 2013. Den ligger i centrum af København, dog i et utraditionelt sted, dog et stykke væk fra mange af de populære
restauranter.
Det er de to sous chefer Victor Wågman og Samuel Nutter fra noma, der har kastet sig ud i et nyt eventyr. Det har de gjort ret godt.
Alt var booket den aften. Da jeg trådte ind i restauranten blev jeg mødt af et imødekommende personale. Det er en super hyggelig restaurant med rustikke møbler, afslappet og varm
atmosfære.
Vi fik et glas mousserende vin og jeg bestilt en snack og dagens 4 retters menu.
Min egne erfaringer. De retter vi fik serveret smagte fantastisk velsmagende og havde sin helt egen karakteristika. Retterne var sammensat af enkle råvarer af meget høj kvalitet, og den enkelte råvarer får virkelig lov til at komme til deres ret. De mestre teknikkerne til perfektion og formår at overraske med nye smags dimensioner.
Det er helt klart et sted jeg kan anbefale.

Pork Neck, wild garlic, cauliflower
Facts: Restaurant BROR, Skt. Peders Stræde 24A, 1453 København K, phone: +45 3217 5999, web: www.restaurantbror.dk/