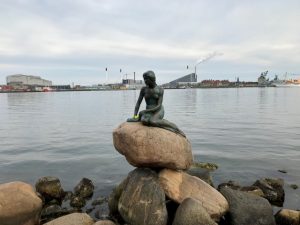 The Little Mermaid is a sculpture in Copenhagen harbor, which greet travelers welcome in Copenhagen Harbour. The sculpture illustrates H. C. Andersen's tale of the same name. The
Little Mermaid was a gift to Copenhagen, donated by brewer Carl Jacobsen and made ​​by
sculptor Edvard Eriksen. As a model for the sculpture Edvard Eriksen used his wife Eline Eriksen. The statue was put on permanent display in Copenhagen harbor on 23 August 1913 and is one of Denmark's biggest tourist attractions.
My own experience: I have visited the little mermaid several times while I lived in Copenhagen. Every time I am pleased to see her so beautiful sitting on a rock next to the water.
In Danish: Den lille havfrue er en skulptur på Langelinie, der byder rejsende velkommen i
Københavns Havn. Skulpturen illustrerer H. C. Andersens eventyr af samme navn. Den lille havfrue var en gave til København, skænket af brygger Carl Jacobsen og udført af billedhuggeren Edvard Eriksen. Som model til skulpturen brugte Edvard Eriksen sin kone Eline Eriksen. Statuen blev opstillet permanent på Langelinie den 23. august 1913 og er en af Danmarks største turistattraktioner.
Mine egne erfaringer: Jeg har besøgt den lille havfrue adskillige gange mens jeg har boet i København. Hver gang glæder det mig at se hende så smuk sidde på en sten ud til vandet.
Facts: The little mermaid, Langelinie, 2100 Copenhagen Ø, phone: +45 39 63 48 07