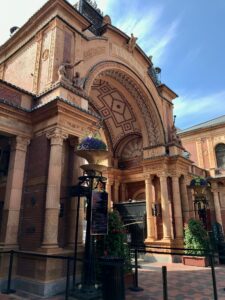 Entrence
Tivoli in Copenhagen is a world famous known amusement park, located in the city center near the main train station and the shopping street Strøget.
Tivoli was founded in 1843 by George Carstensen. The area of the amusement park is pretty much the same today as then. However, none of George Carstensen's original wooden buildings preserved.
Tivoli is the most visited tourist attraction in Denmark. Tivoli is Europe's third most visited theme park, only surpassed by Disneyland Paris and Euro Park in Germany.
Throughout the season will be held concerts with Danish and international stars and various plays and musicals. For the children Tivoli holds also various events during the season.
In the amusement park are many different restaurants in different price levels. It is a park that has both activities for children and adults most of the year.
My own experience: I have come to Tivoli since I was a child, as a child, I think it was fun to try the different rides. As an adult, I am more come to hear a concert or enjoy a nice dinner.
In Danish: Tivoli i København er en verdensberømt kendt forlystelsespark, der ligger i Københavns centrum tæt ved hovedbanegården og gågaden strøget.
Tivoli blev grundlagt i 1843 af George Carstensen. Havens areal er stort set det samme i dag som dengang. Dog er ingen af George Carstensen's oprindelige træbygninger bevaret.
Tivoli er den mest besøgte turistattraktion i Danmark. Tivoli er Europas tredje mest besøgte forlystelsespark, kun overgået af Disneyland i Paris og Europark i Tyskland.
I hele sæsonen bliver der afholdt koncerter med danske såvel internationale stjerner og forskellige teaterstykker og musicals. For børnene afholder Tivoli også forskellige arrangementer i løbet af sæsonen.
I forlystelsesparken findes mange forskellige restauranter i forskellige prisniveauer. Det er en park der har både aktiviteter for børn og voksne det meste af året.
Mine egne erfaringer: Jeg er kommet i Tivoli siden var ganske lille, som barn synes jeg det var sjovt at prøve de forskellige forlystelser. Som voksen er jeg mere kommet for at høre en koncert eller spise en god middag.
Facts: Tivoli, Vesterbrogade 3, 1630 Copenhagen V, phone: +45 33 15 10 01,
web: www.tivoli.dk/