The Citadel in Copenhagen center is Northern Europe's best preserved fortifications. The citadel has an arrest building, a church and a state prison that were used under the absolute monarchy 1600-1780 century.
Today the citadel owned by state prison and accommodates defense chief's residence, the Home Guard, Military Intelligence and a number of smaller authorities and official residences.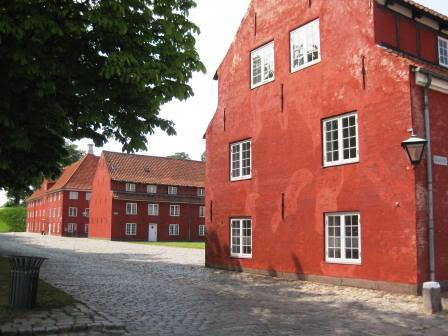 Today the citadel is a protected area, a military area with cultural monument, museum and park.
The square in front of the church is often used for parades during official visits and concerts by military bands.

My own experience: I have visited the Citadel which is a beautiful area, in addition to the beautiful buildings also offer greenery. I have not yet visited the museum. I highly recommend a walk on the Citadel.
In Danish: Kastellet i København centrum er Nordeuropas bedst bevaret fæstningsanlæg. Kastellet har en arrestbygning, kirke og et statsfængsel der fungerede under enevælden 1600-1780 tallet.
I dag ejes kastellet af forsvaret og rummer forsvarschefen residens, hjemmeværnet, forsvarets efterretningstjeneste og en række mindre myndigheder og tjenesteboliger.
I dag er Kastellet et fredet område og et militærområde kulturhistorisk mindesmærke, museum og park.
Pladsen foran kirken bruges ofte til parader ved officielle besøg og koncerter ved militærorkestre.
Mine egne erfaringer: Jeg har besøgt Kastellet som er et smukt område, der udover de smukke bygninger også byder på grønne områder. Jeg har endnu ikke besøgt museet. Jeg kan varmt anbefale en gåtur på Kastellet.
Facts: Gl. Hovedvagt, Kastellet 1, 2100 Copenhagen Ø, phone: + 45 72 83 98 55,
web: www.kastellet.info