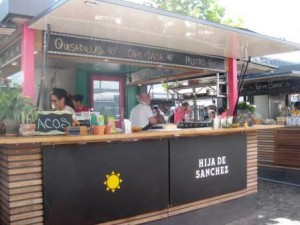 Near Torvehallerne close to Nørreport station there is a small taco stand which makes authentic Mexican tacos of very high quality.
The taco place open very recently spring 2015 and in a very short period of time it has become very popular.
In the kitchen you will find Rosio Sánchez who used to work at noma as sous-chef.
The menu is changed every day and next to the Taco stand there are tables and benches where you can sit and enjoy the food.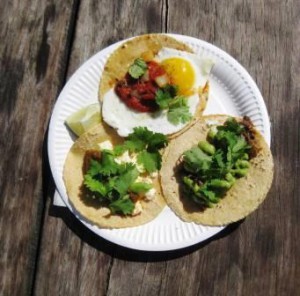 My own experience: I have eaten 3 different tacos from Hilja de Sáchez. The food is very tasty and they serve tacos of very high quality. The food works well as a starter or as a snack.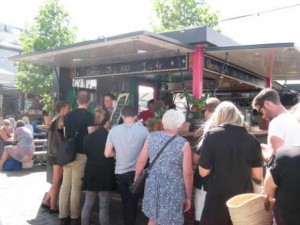 In Danish: Ved Torvehallerne som ligger ved Nørreport station, ligger der et lille mexicansk tacosted der tilbereder autentisk mexicansk tacos af meget højt kvalitet.
Tacostedet åbnede i foråret 2015 og er blevet et populært spisested på ganske få tid.
I køkkenet finder du en tidligere sous-chef Rosio Sánchez som har arbejdet på noma.
Menuen skiftes hverdag og ved siden af tacosteder er der borde og bænke, hvor du kan sidde og nyde maden.
Mine egne erfaringer: Jeg har spist 3 forskellige tacos fra Hilja de Sáchez. De laver meget velsmagende tacos og meget høj kvalitet. Maden er en god forret eller snack.
Facts: Hilja de Sáchez, food stand, Torvehallerne, Frederiksborggade 21, 1360 Copenhagen K