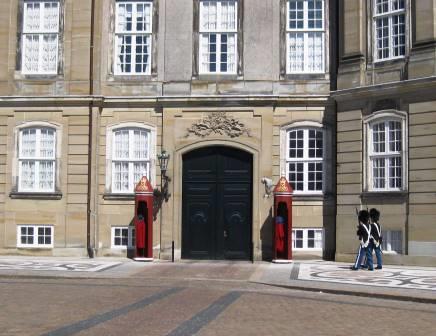 In winter royal family lives at the Amalienborg Castle a castle which since 1660 has housed
several royal families over time.
The Royal Guard stands guard at Amalienborg Castle and other royal castles. At 12:00 every day you can watch a guard shift. Every two hours will be successfully a replacement is completed.
It is free to watch shift.
My own experience: Over the years I have watched a guard shift. It is a great and a fun event, which I can highly recommend if you are in Copenhagen.
In Danish: Om vinteren bor regentparret på Amalienborg slot. Et slot der siden 1660 har huset adskillige regentpar igennem tiden.
Den kongelige livgarde står vagt ved Amalienborg slot og kongehuset andre slotte. Kl. 12.00 gennemfører livvagten et vagtskifte. Hver anden time bliver der gennemført en postafløsning.
Det er gratis at se vagtskifte.
Mine egne erfaringer: Igennem årene har jeg set når, livvagten gennemfører et vagtskifte. Det er en flot og sjov begivenhed, som jeg varmt kan anbefale hvis du er i København.
Facts: Amalienborg Slot, Amalienborg Slotsplads, 1257 Copenhagen K